Friday 12 March 2021, 8pm
at the Sir Raymond Ferrall Lecture Theatre,
University of Tasmania, Newnham
Guest speaker Dr Eric Ratcliff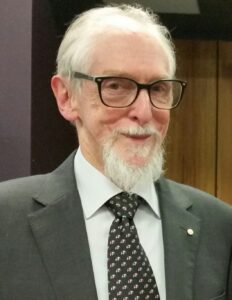 will present the thirty-third lecture on
John West's Launceston, how it came and where it went
Abstract
John West came to Launceston at the end of 1838 and left in 1854. The lecture examines how the town had come to be, what it was like when he arrived, who lived and worked here, what it consisted of, and what it looked like. Was it a 'company town', dependent on government, or an English provincial town a long way from London, or a self-reliant and enterprising community, or something else? Was it in any way exceptional? What happened to it during West's fifteen years of residence, and after his departure, what has become of it since, and what is happening to it now?
Eric Ratcliff is the author of the four volume A Far Microcosm: Building and Architecture in Van Diemen's Land and Tasmania 1803-1914.
This is a free event. The live event was sold out.
Listen to 55 minutes of highlights of the lecture on City Park Radio 103.7FM on Monday 29 March 2021 at 4pm, and the entire talk is on the CPR Podcast page.
The lecture is also on the University's website: Island of Ideas SoundCloud channel.
Read the lecture with images: John West Memorial Lecture 2021.pdf
  Organised by the Launceston Historical Society in partnership with the University of Tasmania